I was in Subway today, and as I was ordering my Sub the guys behind the counter were chatting about console to get. One guy wanted a Playstation, but didn't know whether the xbox was more worth it, what with it being cheaper. I really REALLY wanted to chirp in, but these guys looked like the kind of guys that probably wouldn't appreciate the opinion of a nerd in a tie at ten past one in the afternoon, so I just left it at that.
Is it just me who has moments like this? Where you know you can help, or you just feel the need to say something even though you know you REALLY really shouldn't?
Anyways..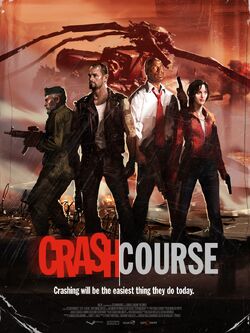 I played Crash Course today. All twenty minutes of it. Here's a quick summary of my feelings.
Good Stuff
It's free!
It's new content, no matter how much bad stuff you say about it.
Multiple pathways add for a better experience overall, especially on Versus mode.
New dialouge is pretty good.
New safe room graffiti!

Bad Stuff

What is it with Valve making Zoey look... weird on all of the new posters?
IT'S. ONLY. TWO. CHAPTERS. LONG
I feel very, VERY sorry for all the Xbox owners.
The end finale is a bit shit really
IT'S. ONLY. TWO. CHAPTERS. LONG
Bit buggy, but it has only just been released.
Overall opinion? It's ok, yea. Certainly adds more onto it, I can't deny that.